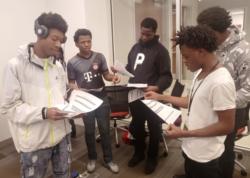 Students Participate in Black Male Institute
"Mind, Body & Bank Account," the biannual Black Male Institute conference focused on wellness, focused on mental, physical and financial health of young black men. The conference was held at Malcolm X College.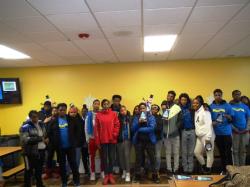 Students See "Roe" at the Goodman Theatre
Just as the political season heats up, students had a chance to see the play "Roe" as part of the Goodman Theatre School Matinee Series. The play lead to discussion of wedge issues in the election year.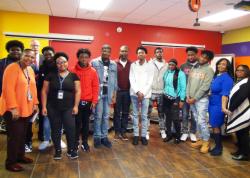 State Rep. Ford Visits ASA
Illinois Rep. LaShawn Ford and Jack Wuest, executive director of Alternative Schools Network visit with students participating in the Re-enrolled Students Program.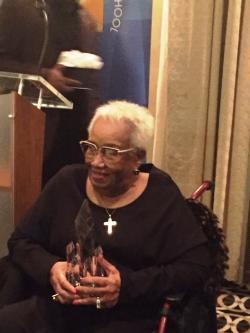 YCCS Recognizes ASA
At a YCCS Principal and Assistant Principal Appreciation dinner, ASA founder Gladys Simpson was recognized for more than 40 years of operation.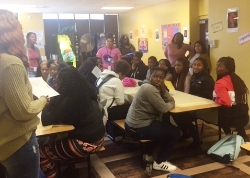 BUILD Brings Games to Lunch Break
BUILD, a community organization that offers youth mentoring and other services, starts the year with offers during a recent lunch break.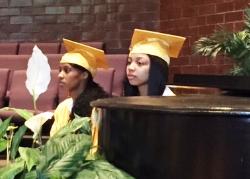 Congratulations to Class of 2019!
Salutatorian Dejah Dorsey and valedictorian Amiryah Beal at the graduation ceremony. Sixty-five students graduated, some going on to college, others to jobs and career training.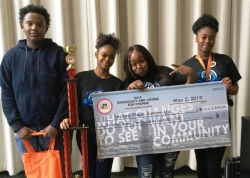 2nd Place Win in Civic Engagement
ASA students won second place in YCCS civic engagement competition. Their project focused on the environmental injustice of lead in the water.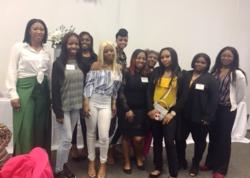 International Women's Day!
BUILD Girls2Women mentor and students celebrate International Women's Day at a luncheon held at By the Hand Club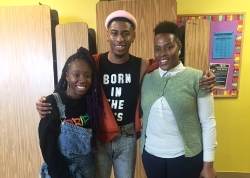 Music Class "Concert"
Young rising artists, Kelsie Johnson (Juiix) and Nick Henderson, join instructor Chinyere Achebe to deliver an impromptu concert during music class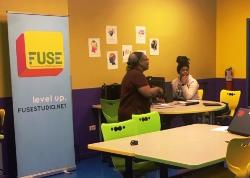 FUSE Moves to a Larger Space
The FUSE technology program has moved to a larger space in the school. Bigger space will lead to bigger ideas!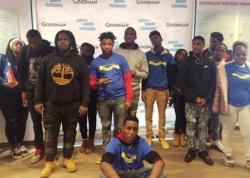 Inspiring Creativity
As part of the Goodman Theater's School Matinee Series, students enjoyed the delightful play "How to Catch Creation." Students got plenty of inspiration for their own creativity!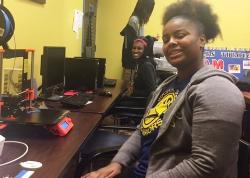 FUSE Program at ASA
Students learn 3-D printing, CAD design, circuitry and other skills in FUSE program, sponsored by Northwestern University.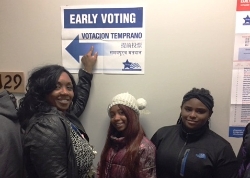 #EarlyVoting
ASA staff and students participated in #EarlyVoting in this important mid-term election.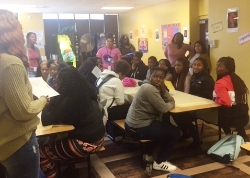 BUILD Introduces Girls 2 Women at ASA
At the October kick-off event, BUILD representatives offered food and friendly conversation to 20 students. The program provides mentoring services to young women. The program culminates in a Pearls of Wisdom event.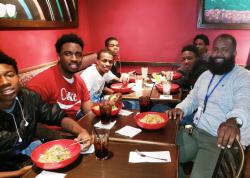 Mentoring Program Takes Students Out to Dine and Loop Sightseeing
Six ASA students, and Student Advisor Antonio Breashears, participated in a mentoring program provided by Passages that included a field trip to the Loop. Students dined at Flat Top Grill, visited the Bean, and lent support to striking hotel workers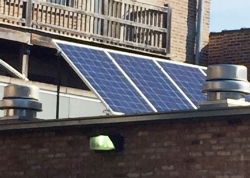 ASA Goes Solar
Solar panels installed on the roof of the science lab at ASA will help reduce our electricity costs and give some hands-on applications for our science curriculum. We're also looking forward to doing our part to help the environment.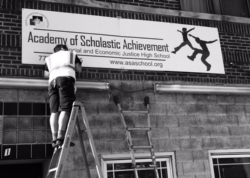 New Signage in Our 40th Year!
New signage and flower pots are part of the beautification efforts at ASA as we prepare for the new school year and celebrate 40 years of providing education to youth on the West Side of Chicago.
Graduates Listen to Inspirational Message at Ceremony
The graduating class of 2018 heard congratulations and inspirational words from the speaker, Barbara Bates, a fellow west sider and well-known fashion designer. Bates of Barbara Bates Designs spoke from her experience as a young teen mother who went on to achieve a successful career. Bates encouraged graduates to pursue their own dreams in life.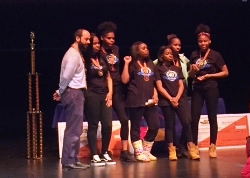 ASA Wins 3rd Place at Youth Summit
ASA students won honorable mention for their project to encourage voter registration. The project was exhibited at the 2017-2018 Democracy and the Color of Change Youth Summit, sponsored by YCCS, at Kennedy-King College.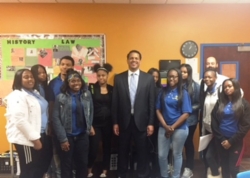 Mayoral Candidate Visits Civic Engagement Class
Mr. Lupo's civics class spoke with mayoral candidate Troy LaRaviere about important issues in the upcoming mayoral race.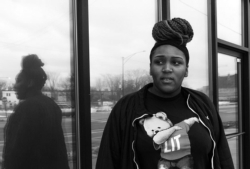 ASA Student Interviewed for Chicago magazine article
Adesha Holloway was among the West Side youth and residents interviewed for a February Chicago magazine article on violence and the low life expectancy in some communities compared to the city overall. Read the full article at: http://www.chicagomag.com/city-life/February-2018/A-Second-City-West-Side-Health-Life-Expectancy/ (Photo credit: Sebastián Hidalgo)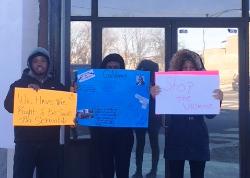 #WalkoutWednesday
ASA students lend their voices and protest signs to the national campaign to push for changes in gun laws and to protect schools.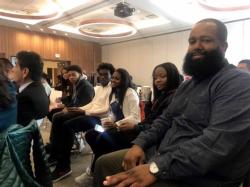 Students Attend Youth Employment Hearing
ASA students attended youth employment hearing at Malcolm X College in early March. The hearings provided an opportunity for youth, legislators, and community businesses to discuss how to educate and employ out-of-school and jobless youth. (Photo credit: the GATE Newspaper)
ASA Celebrates School Choice Week
Students participated in support of educational opportunities and in acknowledgement of the valuable contributions teachers make to education and society.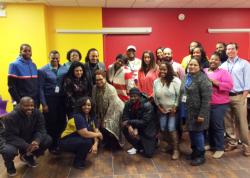 SYNC at ASA
ASA staff and providers from Metropolitan Family Services, UCAN and BBF Family Services meet to coordinate student services under the SYNC program (Strengthening Youth through a Network of Care).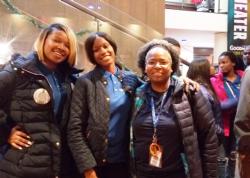 "A Christmas Carol"
So appropriate for the holiday season! Students and staff attend "A Christmas Carol," courtesy of Goodman Theater's School Matinee Series. Ms. Smith and Ms. Hersch will take students to attend other selected plays and tie the themes of the plays into an integrated math and language arts curriculum.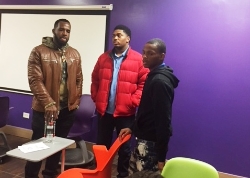 Actor Richard Gallion Visits ASA
Richard Gallion participated in the launch of Post-Secondary Planning to help students focus on their plans for the future. As part of his talk with students, Gallion gave students tips on articulation, an important skill in acting and in life.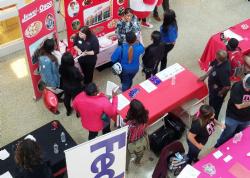 Students Attend #Chicago100K Job Fair
Twenty-eight ASA students were among the thousands of youth to attend a job fair sponsored by Thrive Chicago, Chicago Cook Workforce Partnership and Kennedy-King College in early October.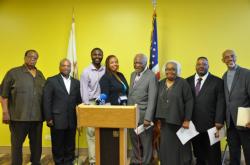 Cong. Davis Announces Free Conference on State of the African American Male
US Congressman Danny K. Davis joined with political leaders and community activists to announce a conference to discuss challenges facing young black men, in September at UIC. Pictured from left to right: Bernard Clay of Introspect Services, Michael Holmes of Youth Connection Charter Schools (YCCS), State Rep. LaShawn Ford, Kimberly Hopson of YCCS, Cong. Davis, Gladys Simpson ASA CEO, Cook County Commissioner Dennis Deer, and Phillip Jackson of Black Star Project.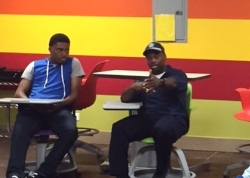 Summer Peace Circle
ASA's peace circles this summer are sponsored by Chicago Community Trust's Safe and Peaceful Community grant and included a discussion between students and members of the 11th District of CPD. The peace circle focuses on strategies to reduce the frictions that lead to violence.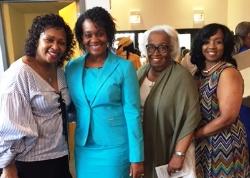 Illinois Senator Lightford Speaks at ASA graduation
Sen. Lightford (second from left) joined Principal Simpson, CEO Mrs. Simpson and Assistant Principal Donald for a photo following ASA graduation. Sen. Lightford was the graduation speaker.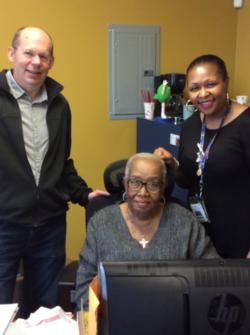 Author Alex Kotlowitz Visits ASA
Author Alex Kotlowitz recently spoke with ASA students on current urban issues. Kotlowitz is pictured with ASA CEO Mrs. Simpson and Principal Simpson. Kotlowitz is an award-winning journalist and author of the acclaimed book, There Are No Children Here.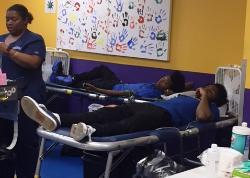 ASA Students Donate Blood
Students donate blood for service learning hours, a Subway discount card, and -- most important -- to make a contribution to their community.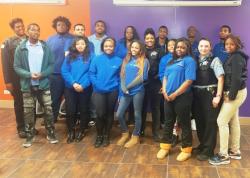 ASA Invites Chicago Police Officers to On The Table Event
Students had a good conversation with 11th District police officers about the relationship between police and youth at #OnTheTable2017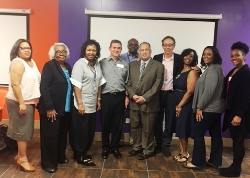 CPS Site Visit
CPS site visit in April focused on ASA strategies for competency-based teaching and learning.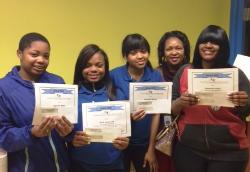 First Semester Honor Roll
Principal Simpson recognizes first semester honor roll students Danielle Banks, De'Armonie Lee, Jonvenae Glover and Devonsha Heath.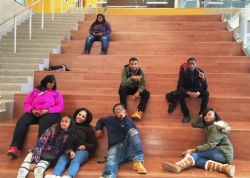 Dual Enrollment
ASA students, participating in a dual enrollment program that allows them to take college courses while still in high school, sit on the steps of the new Malcolm X College.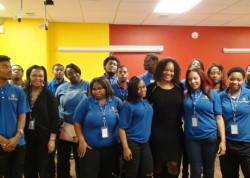 Sen. Lightford Visits ASA
Students visited with Illinois Sen. Kimberly Lightford in early December to thank her for supporting the Re-enrolled Student Program.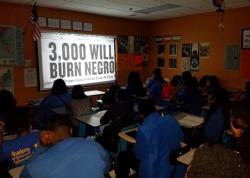 Students Watch "The 13th," Study Mass Incarceration
Students watched "The 13th," documentary by Ava DuVernay, which examines the historical context for mass incarceration in the U.S. The documentary looks at the 13th Amendment to the U.S. Constitution, which abolished slavery and involuntary servitude, except as punishment for criminal behavior.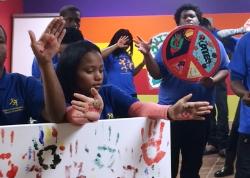 Mannequins for Peace
Twenty ASA students held a pose for 45-seconds to the music of Common's "Black America Again" to pay tribute to loved ones they've lost to violence and as a prayer for peace. The "mannequin" pose is part of social justice studies at ASA that have focused on urban violence.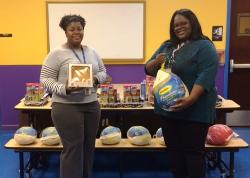 Thanksgiving Gifts
Ms. Hadley and Ms. Ard present donations from ASA staff for Thanksgiving contributions to selected students and their families.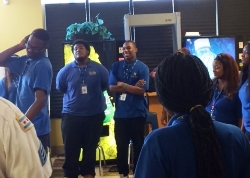 Building Bridges at ASA
In early October, students participated in Building Bridges, a program aimed at strengthening relationships between community youth and Chicago police.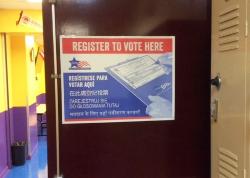 Students Sign Up to Vote During Registration Drive
Our students are preparing for the most important duty of citizenship – voting. In late September, ASA students registered to vote in November presidential election.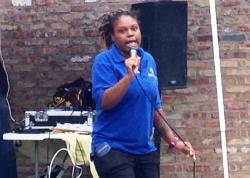 Peace Fest Sends Anti-Violence Message
In mid-September, ASA hosted a peace fest, sponsored by the Chicago Fund for Safe and Peaceful Communities. Students and the community celebrated efforts to keep the peace, with art work, a rap contest, games and -- of course, food.
ASA Hosts West Side Bridge
This month ASA had the pleasure of hosting the West Side Bridge networking group of nonprofits and business people in Austin and Oak Park. The group meets the third Thursday of each month to share information about services and businesses in the community.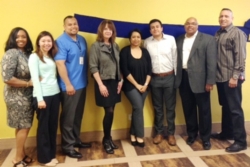 Workforce Presentation for Soon-to-Be Graduates
Chicago Cook Workforce Partnership arranged for representatives from several agencies to speak to students about career plans following graduation. Resources included job training, job placement, childcare and transportation services.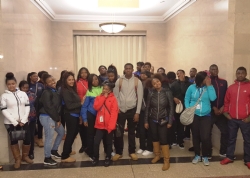 Students Join Rally in Support of Jobs for Youth
ASA students enthusiastically added their voices to the hundreds of youth attending a rally at the County Building to support an initiative introduced by Commissioner Richard Boykin that would provide summer jobs for youth. A recent report by UIC, commissioned by the County Board, shows nearly half of young black men in the Chicago area are out of work and out of school.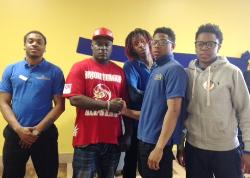 Rapper Belo Visits ASA
Rapper Belo (one of the original members of Do or Die) dropped by today to talk with ASA students participating in WestCare's Face Forward program, sponsored by the Department of Labor. Belo talked about his own experiences growing up in Chicago and offered words of encouragement.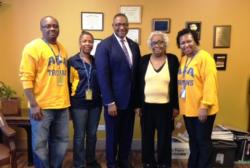 Cook County Commissioner Boykin Visits ASA
On a recent visit to ASA, Cook County Commissioner Richard Boykin talked about his initiative to create jobs for youth.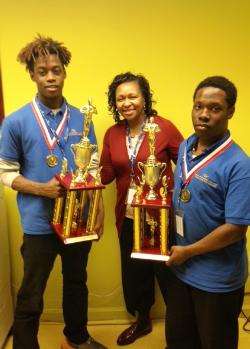 ASA's Great Debaters
Kudos to our Great Debaters, Devin Mosby and Christopher Hood. They won second-place trophies in the Great Debaters contest at Malcolm X Community College during a conference to encourage black and Hispanic males to attend college.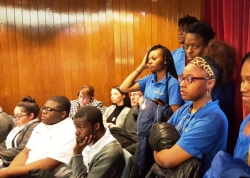 Civic Engagement
Our students were part of the packed hearing room in March when the Cook County Board of Commissioners discussed the problem of youth unemployment. A recent UIC study shows nearly half of young black men in Chicago are out of work and out of school.