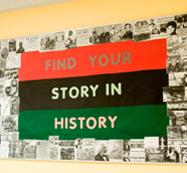 The Academy of Scholastic Achievement first opened its doors in the fall of 1978 in the basement of a Catholic church in West Garfield Park.The staff comprised 8 full-time teachers and administrators and the student roster was 85. One year later, the school's roof collapsed in the Chicago blizzard of 1979. The Academy found temporary shelter at Mars Hill Baptist Church in Austin, before relocating to the historic Hamlin House building in West Garfield Park.
Around this time, the Academy successfully petitioned the Chicago Board of Education to occupy a phased out public elementary school. Louis Armstrong Elementary School in Austin, was home to ASA until the Chicago Public Schools (CPS) reclaimed the property in 1992. That year the Academy relocated to its current site at 4651 W. Madison Street; ASA has remained at this location ever since.
Today, the Academy serves more than 200 students and has a full-time staff of 26. The school offers academic, extra-curricular and social-emotional programs. The 26,000-square foot building features classrooms, several administrative offices, and a multi-purpose room that also serves as a conference room, cafeteria, and classroom. The school has a 25-seat computer room and two mobile computer labs with 24 laptops. In partnership with the CPS, ASA offers a breakfast and hot lunch program.